Dear Quilters,
I enjoy welcoming quilters to Rosa Mountain House in the Catskills and providing them with a relaxed atmosphere, workspace, lodging, and delicious home cooked meals, so that guests can fully enjoy their quilting weekends.
Please take a moment to look over the website. A brochure with a schedule of retreats and general information can be printed to share with friends on the Retreat page. Photos of accommodations, past retreats and Catskill scenery are on the Photo Gallery page. Any questions you might have about the retreats are welcome and will be promptly answered.
A page has been added to introduce you to my other business, Tea Time Fabric Panels. These fabric panels are cut–and–sew fashions for American Girl Dolls. They are beautifully engineered with original prints, come with a step–by–step illustrated instruction booklet, and all notions needed. We also include fit instructions for other popular 18" dolls. I hope you will explore Tea Time Fabric Panels.
Sincerely,
Patricia Rosa
pat@rosamountainhouse.com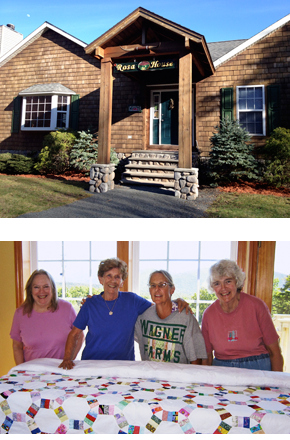 "Quilt retreats at the beautiful Rosa Mountain House always make my spirits soar. I feel so pampered! My idea of a vacation is sharing with other quilters Pat's superb meals, her lovely home with its 360–degree mountain vistas, and sewing, laughing, quilting together."
— Martha, member of The Quilters Guild of Brooklyn